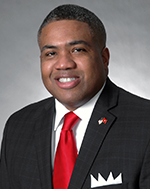 Mayor Michael L. Booker
Mayorbooker@vhhohio.org
MAYOR'S OFFICE
Greetings from the Mayors Office:
As Mayor I am the official spokesman for the Village, interpreting needs, policies and programs. My role is to reach out to the members of the community, to encourage agreement and good will here at the Village Hall and to represent the Village on intergovernmental matters.
The Mayors office is the nucleus of the Village government. We have an open door policy, the residents are welcome to call, or come in during normal working hours, and our staff is ready and willing to serve.
All departments at our Village Hall strive to be accessible to our residents. You can reach all of our Municipal Departments by dialing (216) 283-3000. If you ever need assistance, please don't hesitate to call me personally or any of our Department Directors.
Our residents like Highland Hills because of its small community atmosphere and its convenient location. We have homes and neighborhoods to suit most budgets and life styles - whether you are newly married or an empty nester, have a growing family, or are an executive with specific location needs. Our neighborhoods are friendly...for raising a family, making friends, and taking walks around the block. Interstate 480 and I-271 are a stones throw away for transportation needs.
We are conveniently located midway between downtown Cleveland (11 miles) off Interstate Route 480 and Akron (30 miles), off of Interstate Route 271 that also connects to nearby north and south freeways and the Ohio Turnpike. Due to our central location and easy access to freeways, residents can travel to the airport and just about anywhere in Cuyahoga County within just 30 minutes during non-rush hour periods.
The administration and council continue to work together to create the best possible environment for our residents to live.
Our Village services are second to none. Residents will find helpful information about rubbish and leaf collection schedules, building permits, fire safety tips, street paving alerts, Village meetings, special events, and a whole lot more.
As always, the mission of the Village government is to provide excellent quality of life for all residents and businesses alike. It is a mission we take very seriously. Our doors are always open to you!
Best regards,
Michael L. Booker, Mayor
Village Government
Mayor - Michael L. Booker - Elected for four-year term
Council Representatives - Elected for four-year term
Council President - Elected annually
Pro-Tem - Elected annually
Village Hall
Address:
3700 Northfield Road, Highland Hills, OH 44122
Phone:
216-283-3000
Fax:
216-283-3005
E-Mail:
VillageHall@vhhohio.org