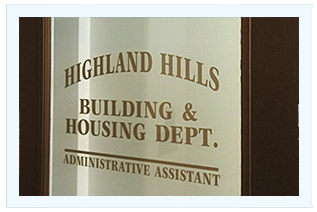 HOURS
Tuesday & Thursday
9:30 am – 11:00 am

BUILDING DEPARTMENT / COMMUNITY AND ECONOMIC DEVELOPMENT
Community Development & Planning Director: Larry E. Finch
Assistant Building Official: Robert Rodic

Building permits are required when interior or exterior alterations are being made. If you are planning on adding a deck, changing walls, or mechanical systems such as wiring or plumbing, a permit is necessary.

The permit and inspection process is designed to aid residents in the building process. Proper planning and inspection can help assure homeowners, that any work being done meets quality building standards.

Online Permit and Registrations Payments

Point of Sale (POS) - Residential

Point of Sale inspection is required before property can be transferred.
Occupancy Application is required for a new home owner or in rental properties a new tenant or change of tenant.

Applications for permits, and an explanation of the process may be acquired at the Village Hall, Suite 3.
(also available below) Monday through Friday, 8:30 to 4:30, for information call 216-283-3000.

The following permits and procedures are available as .pdf files.


Contractor Registration Procedures
Application for Contractor's Registration
CCA - Municipal Income Tax
Performance Bond Form
Permit/Plan Review Application
Occupancy Permit Application
Highland Hills Zoning Map
Application for Point of Sale Inspection
Sign Application
H.E.L.P Program Application


Clicking a title will cause a new browser window to open. If your computer has pop-up blockers, you may want to right click the title, and save the document to your hard drive.