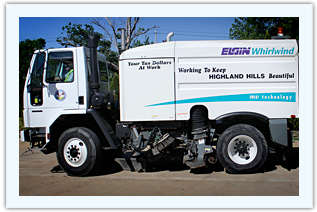 PUBLIC WORKS DEPARTMENT
Director of Public Works:
Tyrone Conard
Overview
The Village of Highland Hills has and continues to maintain a proud heritage of public service initiatives within the Village. Since the inception of the department there has and continues to be a constant daily striving to better serve our residents. The services provided around the Village are always being evaluated and changed for the better whenever possible. The Department of Public Service does an outstanding outreach within the Village, not limited to:
Leaf Removal
Branch Chipping
Trash Pickup
Recycling Initiatives
Street Maintenance
Maintaining Village Property
Snow Plowing/Ice Treatment
Maintaining Village Equipment
To most efficiently serve the Village, many of the above initiatives are seasonal programs performed by the same employees.
Leaf Removal
Leaf collection is expected to start approximately mid-October through the time "snow flies"
Leaves should be raked to the tree lawn in loose piles
No leaves containing branches, brush, grass clippings or debris will be picked up
DO NOT rake leaves into the street, this can cause a hazard
Weather permitting, pickup will be at least once per week
Branch Chipping
Branch chipping is available from mid-Spring to mid-Fall
Service Deptartment will make rounds throughout the Village in the Spring of the year
Additional chipping can be scheduled through the Service Dept. 216-662-5012
Tree removal contractors are expected to supply their own chipping
Trash Pickup
The Village collects residential garbage on Thursday of every week. Standard trash containers or smaller, are to be placed curbside for regular pickup. Containers and garbage may not exceed 50 pounds to enable one person to lift them into the truck. Garbage containers are to be placed at the curb no earlier than 5:00 p.m. the night preceding collection. All collection containers must be removed from curbside on the evening of collection day. Below is a bullet list to enable our residents to help us be more efficient:
Garbage at curb no later than 8:30 a.m. on collection day
Containers or bags not to exceed 50lbs
Tie or bag newspapers, shrubs and cardboard in small bundles
Construction or building materials will not be collected
Cardboard boxes and paper bags may not be used as garbage containers
Excessive bulk items require special collection and will not be a part of the normal weekly collection. Residents may call The Public Works Department 216-662-5012 to arrange for a special pick up. Below is a sample list of items requiring special collection:
Refrigerators with doors removed
Furniture
Carpeting
Stoves
Water heaters
Dishwashers
Air conditioners
Garbage Collection Holidays
Any holiday that falls on a Thursday, garbage collection will be the following day on Friday. For more information, please call 216-662-5012
Recycling Initiatives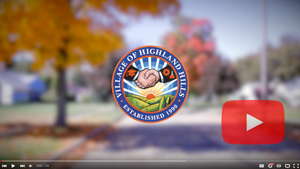 VHH Recycles: View our recycling videos

The Village sponsors a curbside Recycling Program that is administered through our Public Works Department. Residents are urged to assist us in making Highland Hills a Green community. Recyclable trash can include plastic bottles and containers, cans (both steel and aluminum), and newspapers. Paper items are to be placed curbside tied in bundles or neatly stacked in paper bags. Recyclables are to be placed curbside alongside the normal trash pickup and will follow the same schedule.

Recycle these items in your home:
https://cuyahogarecycles.org/
Every household in the Village was issued a blue recycle container. If you are in need of a container please call the Village Hall front desk at (216) 991-6000. The Village would like to take this opportunity to Thank, those Residents who are participating in responsible recycling and encourage others to participate.

The Village of Highland Hills has teamed up with the Cuyahoga County Solid Waste District to offer Special pickups throughout the course of the year. We will dispose of scrap tires to a recycler, recycle old computers, keyboards, monitors and printers, we will also have special pickups of Household Hazardous waste. Special pickups will be advertised with street signs that have been purchased at no cost to residents but paid for by a recycling awareness grant obtained from the Cuyahoga County Solid Waste District.

Please note that Latex Paint is not hazardous as it is comprised mostly of water. Solidify any remaining latex paint and place it in your regular trash.

To Solidify Latex Paint
Allow the paint to dry by removing the lid and allowing liquids to evaporate. This will work for small quantities of paint with an inch or two in the bottom of the can. Paint can take several days to dry.
Latex paint can also be solidified by mixing equal amounts of an absorbent material and allowed to dry. Items such as cat litter/ saw dust/ plaster of Paris or oil dry work well.
Another option would be to pour thin layers (about 1" of paint) into a cardboard box lined with plastic. Allow the paint to harden one layer at a time until all the paint has hardened.
When latex paint is thoroughly dry/hardened discard in your regular trash. Leave the lid off the can so the waste collector can see the hardened paint.
Liquid paint will not be picked up by our waste collectors.
Street Maintenance
The Village of Highland Hills runs an aggressive road repair program and conscientious maintenance initiative. The Village is very diligent in pursuing grant money to maximize community improvement opportunities.
Maintaining Village Property
Service Department employees perform all the maintenance needs of community property around the Village. A sampling of duties:
Grass cutting and trimming nonresidential roadsides
Trimming trees and shrubs
Decorative work
Helping with building maintenance
Policing trash from the roadsides
Snow Plowing/Ice Treatment
The Village's snowplow team is on call 24 hours a day, 7 days per week, in addition to working their normally scheduled hours, to keep our roadways clear and safe. The main roads of Highland Hills have first priority followed by secondary or residential streets. Whenever we experience a significant snowfall, the driveway plows are dispatched into action to clear resident's driveways. A listing of Village equipment for snow removal follows:
2 – 5 Ton plow trucks with salt spreader inserts
3 – 3 Ton plow trucks with tailgate salt spreaders
3 – ¾ Ton pickups with plows for driveways
1 – Trojan rubber tire front end loader
2 – Bombardier sidewalk plow units
Maintaining Village Equipment
The Village employs mechanics to perform maintenance and repair needs to all Village owned equipment. By doing so a tremendous savings is realized compared to having to send equipment out for repair in today's high priced repair market. At present we maintain approximately 100 pieces of equipment ranging from garbage trucks to weed whips. The equipment maintained/repaired is used by all departments throughout the Village (i.e. Police, Fire, Administration, Building, Senior, Properties and Service).